Two years ago I posted my first EVER post on this blog, and it just so happened to be Jamie's 2013 End of Year Book Survey! It was the beginning of a wonderful year in which I really got my little baby book blog off of the ground, and then last year I got to fill out the 2014 End of Year Book Survey and it was so much fun to see how far I've come!
I am thrilled to fill it out again for this year, especially because this year saw me coming leaps and bounds away from where I started two years ago! If you are interested in filling out this great survey, head over to Jamie's blog now to copy all the questions! (She also has some great header images you can use!)
Without further ado, I give you my 2015 End Of Year Book Survey!
Number of Books You Read:
54, assuming I finish Wolf by Wolf in the next 3 days!
Number of Re-Reads:
Six, 4 of them Harry Potter which makes my fangirl heart so happy <3
Genre You Read the Most From:
Fantasy/Adventure
1. Best Book You Read in 2015?
This is a cruel question and I refuse to answer. But if I have to, I'll say Six of Crows by Leigh Bardugo because it was such an intensely anticipated book from an author that I LOVED and she more than delivered. (review)

2. Book you were excited about & thought you were going to love more but didn't?
Letters to the Lost by Iona Grey. Lost letters from the time of World War II? Star-crossed lovers? A dual timeline multiple POV historical fiction? I won't say it was a terrible book, because it definitely wasn't … but something about it just didn't work for me (I think it was the present day storyline that really killed it). (review)

3. Most Surprising (in a good way or bad way) you read in 2015?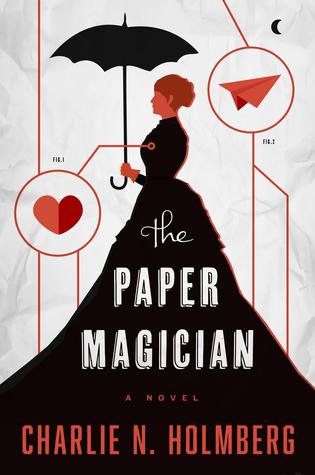 This is always such a difficult question, but I think I actually have a good answer this year! My first book of the year was The Paper Magician by Charlie Holmberg, and this is how it's described:
Ceony Twill arrives at the cottage of Magician Emery Thane with a broken heart. Having graduated at the top of her class from the Tagis Praff School for the Magically Inclined, Ceony is assigned an apprenticeship in paper magic despite her dreams of bespelling metal. And once she's bonded to paper, that will be her only magic… forever.
I picked this book up at first because of the GORGEOUS cover. From the synopsis I was expecting a fantasy/adventure and ended up with more of a philosophical journey through love, heartache, loyalty, and trust. (I did end up giving it 3 stars, and loved the way the different types of magic and magic casting were described.) (review)
4. Book you "pushed" the most people to read (and they did)?
Soooo I don't know if this counts (because it was my first time reading the book), but I did get four or five people together to do a readalong of Daughter of the Forest with me in the beginning of the year! Since then I've been recommending it to people like crazy, so I think it'll work for this prompt. 😉

5. Best Series You Started in 2015? Best Sequel of 2015? Best Series Ender of 2015?
Series Started: A Darker Shade of Magic by VE Schwab! (review)
Best Sequel: (Kinda cheating but whatevs) Harry Potter and The Chamber of Secrets
Series Ender: Lion Heart by AC Gaughen, she says over and over and over and over and over because LOVE
6. Favorite new author you discovered in 2015?
Juliet Marillier! I read Daughter of the Forest at the beginning of this year and absolutely loved it, and I know she has SO many more backlist titles that I can't wait to get my hands on! (review)
7. Best book from a genre you don't typically read/was outside your comfort zone?
Oh, hey! Another difficult question! And I'm only on #7! I don't think I really read anything "out of my comfort zone" as far as content goes, but I did listen to an audiobook of Mindy Kaling's Why Is Everyone Hanging Out Without Me? It was non-fiction, a humor memoir, and it was an audio – a triple threat of things I don't normally read! One thing I'll definitely say, though? It makes me want to read ALL the humor memoirs, and most especially on audio! I don't know if I'd have loved it the same without Mindy giving her own spin to her stories, but she seriously had me in tears for some of her essays! (review)

8. Most action-packed/thrilling/unputdownable book of the year?
Probably Illuminae by Amie Kaufman and Jay Kristoff. It didn't grab me IMMEDIATELY but once it did and stuff really started to happen, I was totally a goner! The formatting of the book (ergodic literature, I learned that this year) definitely helped, it was honestly just so much fun to read! (review)
9. Book you read in 2015 that you are most likely to re-read next year?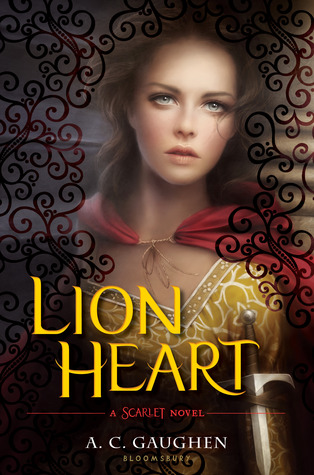 I'm actually not much of a re-reader, but if I had to pick one I think I would go with Lion Heart by AC Gaughen.
It was one I had been waiting on for a really really really long time (okay, okay, it was only a year), and I was lucky enough to receive it as an ARC a few weeks before publication.
I was going into it with ALL the hype, and to add on to that I was on vacation and in total relax mode. Even though I remember a lot of it, and it was one of my favorites that I read this year, I think it would be so much fun to revisit it. (Also because it is seriously one of the best series enders I have ever read, ever!) (review)
10. Favorite cover of a book you read in 2015?
Can't choose won't choose can't make meeeee
11. Most memorable character of 2015?
Why must you ask me these things?!

Karou. Sorcha. Rapunzel. Sophia Bellamy. Tamlin. Felix. Elise Dembowski. Inez. Zusanna. Feyre. Taylor Markham.
There you go, then. My most memorable character(s) of 2015! That's what the question was, right?
12. Most beautifully written book read in 2015?
FINALLY! A question that is beyond simple to answer! Every single book in the Daughter of Smoke and Bone series. <3 <3 <3
13. Most thought-provoking/life-changing book of 2015?
Jellicoe Road by Melina Marchetta. This book wrecked me a million times over, and I don't know if I could even put it into the right words exactly how and why it all happened and why it affected me so profoundly. What I DO know is that I was lucky enough in my life to find my Jonah Griggs, and I've thought about that a lot this year. 

14. Book you can't believe you waited UNTIL 2015 to finally read?
Ella Enchanted! Daughter of Smoke and Bone! 
15. Favorite passage/quote from a book you read in 2015?
Excuse me while I ponder why in the world I still have not managed to figure out a good and (for me) consistent way of keeping track of my favorite quotes! I know I found a lot of quotes from Lion Heart and the Daughter of Smoke and Bone series particularly moving, but I have no idea exactly which ones! I need to do something different in 2016 …

16. Shortest & longest book you read in 2015?
The shortest book I read was Night of Cake and Puppets at 79 pages, but if we're looking for non-novellas, it would be Once by Morris Gleitzman at 165 pages. The longest was Harry Potter and the Goblet of Fire at 734 pages, but if we're looking for non re-reads, then it's Dreams of Gods and Monsters at 613 pages. (Huh, longest and shortest were both Laini Taylor and came from the same series! Interesting!)
17. Book that shocked you the most?
Sharon Cameron's Rook – there weren't a lot of books on my list this year that I would necessarily call "shocking," but I do think there were enough twists and turns in Rook to warrant it being mentioned for this question! (Maybe not enough to warrant James' way over exaggeration of the soda spittake, but what are you going to do?)

18. OTP of the year (you will go down with this ship)
Rob & Scarlet from AC Gaughen's Scarlet Trilogy always and forever!!! The last book was particularly wonderful, and that scene in the forest, y'all. Just. <3
19. Favorite non-romantic relationship of the year?
I absolutely loved the friendship between Zusanna and Mik in Laini Taylor's Daughter of Smoke and Bone Series. They are fiercely there for one another, and they have perfect elements of serious vs silly vs girl talk vs save the world talk. I love relationships that feel realistic in YA novels, and this friendship (and it's ups and downs) was pitch perfect in basically every way!
20. Favorite book you read in 2015 from an author you've read previously?
I'm going to have to choose two here – Leigh Bardugo's Six of Crows and Sarah J Maas' A Court of Thorns and Roses. I read all of their previously published works in 2014, and fell head over heels for both of these authors! I was absolutely filled with anticipation for the first books in their new series, and super hopeful that I wasn't looking at one hit wonders. (And, uh, duh, of course I wasn't! These ladies are A++++++ in every way!) Both of these books set up the new series amazingly and I am so psyched for what's to come! (SOC review) (ACOTAR review)
21. Best book you read in 2015 that you read SOLELY based on a recommendation/peer pressure:
Okay, okay, okay, I cave! I will finally read the Daughter of Smoke and Bone series! I wrote a Top Ten Tuesday post about some books I just didn't know if I'd ever read, and I mentioned Daughter of Smoke and Bone (to some of my blogger friends' absolute horror). They gently and politely (not at all forcefully or in all caps) told me in no uncertain terms that I just had to read the entire series, so after I finished my current read I went for it – and ended up LOVING it. So this James Van Der Meme is for me sticking out my tongue at all of you that are currently telling me "I told you so!!" 😉

22. Newest fictional crush from a book you read in 2015:
This is going to sound ridiculous, but it's actually a tie between two VERY different characters. The first is Red, from Marillier's Daughter of the Forest … and the second? The second is James Mycroft, from Ellie Marney's Every Series! They are obviously two very different people in two very different worlds, but I wouldn't say no to either of them if they wanted to take me on a date! 😉
23. Best 2015 debut you read?
I actually only read one debut novel this year, and it was Letters to the Lost by Iona Grey. It might not have made the BEST debut tier had I read any other debut novels, but I don't think there was enough wrong with it to discount it being on this list! (review)
24. Best worldbuilding/most vivid setting you read this year?
The entire Daughter of Smoke and Bone Series. Or, wait … maybe A Darker Shade of Magic and the multiple Londons contained within. Or, well, maybe actually it's the world created by Megan Morrison's Grounded. Actually, ACOTAR was pretty good in the world building as well. And I did re-read Harry Potter as well, so of course that's AMAZING world-building, but that was a re-read, so does that count?
25. Book that put a smile on your face/was the most fun to read?
Gail Carson Levine's Ella Enchanted! A wonderful blogger friend found out I hadn't yet read this, and sent me a copy almost immediately. I didn't have a lot going on TBR wise, so I made it the next book I picked up. Y'all? I ended up LOVING IT. It was just sooooo much fun!
(Speaking of fairytales and that wonderful blogger friend? She also recommended Megan Morrison's Grounded to me, and I ended up loving that one just as much, and could definitely be caught grinning a few times throughout that read!)
26. Book that made you cry or nearly cry in 2015?
I'm a total crybaby soooo here's my list:

Then by Morris Gleitzman
The Nightingale by Kristin Hannah
Nowhere but Home by Liza Palmer
Lion Heart by AC Gaughen
Jellicoe Road by Melina Marchetta
Daughter of the Forest by Juliet Marillier
This Song Will Save Your Life by Leila Sales

27. Hidden gem of the year:
Uprooted by Lynne Reid Banks – I received an ARC of this book at BEA, and read it almost right before it's publication date of 11/01 (although it was originally published in Aug of 2014). It is a semi-autobiographical memoir of the author's wartime experiences in Canada, and I found it really interesting! There isn't a lot of major dramatics happening other than the everyday experiences of living away from home during the war and the trials and tribulations to be found within, but it was moving and interesting and poignant. 
28. Book that crushed your soul:
oooo, soul crushing … this is a tough one! Looking back over my books, I honestly don't think I see one that is "soul-crushing," but maybe that's because I still haven't read Queen of Shadows OR Winter yet! (I'm not ready for the FEELS, okay?)
29. Most unique book you read in 2015?
Hands down, without a doubt, Illuminae! This was an absolutely fascinating book (think House of Leaves), and reading it was such an experience! I was trying to find a way to explain the type of novel it is back when I did my review, and I found something called "ergodic literature." 
From my review: Ergodic literature is when "nontrivial effort is required to allow the reader to traverse the text," which I took to mean that reading the book is something that requires physical effort for a reader.
30. Book that made you the most mad (doesn't necessarily mean you didn't like it?)
The Lake House by Kate Morton.
(I know, seems weird, right? Especially because I'm such a massive Morton fangirl?)
WELL LET ME TELL YOU SOMETHING
We had to wait three years for her last book, so now that The Lake House has been published and I've read it and loved it, it just means I'm going to have to wait 2-forever years for her next and I just don't know if I'm strong enough for that, okay?!

1. New favorite blog you discovered in 2015?
I haven't done nearly as well with "discovering" as I would like (this is something I'm going to work more on for 2016!), but I do know one blog that immediately comes to mind: Gone With The Words! One of my best twitter friends, Morgan, started co-blogging with Jess late last year, and an IRL friend, Ashley, started co-blogging with her this year! (Not to mention that Jess was my OTSPSecretSister for the round that took place at the beginning of 2015!) I love everything that Jess and her ladies come up with, and I definitely recommend it to all of you!

2. Favorite review that you wrote in 2015?
I put a lot of work into my review for The Nightingale by Kristin Hannah, and I was really proud of how it turned out. I love historical fiction so much for the way it can make us think about our own history and that of the people around us. I was particularly moved as I went back through the history of WWII looking for heroic people that made a difference, and compiling them all together in this post.
3. Best discussion/non-review post you had on your blog?
I took some major risks on the blog this year, and posted a few really personal blog posts. Even as I was posting them, I wasn't sure if I liked the idea – but I did really want to get the words out and I hoped that it would feel right after posting. The best thing? It was totally worth it. I received such amazing response from this community, and even though both posts were massively hard to write, my heart does feel a little lighter for having said them.
Review & Discussion: Nowhere But Home
Finding My Fight Song: A Personal Discussion
4. Best event that you participated in?
DUH. Book Expo America! It was SO MUCH FUN, and I absolutely cannot wait to see what BEA will look like in Chicago next year! It's already starting to feel real – me and some other bloggers have booked a room, and I'm hoping to buy my plane tickets any day now. (Also? This will be the first time in our THREE YEAR friendship that Morgan and I will meet in real life so MAJOR HAPPY FEELS THERE!)

5. Best moment of your bookish/blogging life in 2015?
One of the most amazing things about blogging has always been the relationships I've forged through this amazing community. I was lucky enough to get to attend BEA earlier this year, and I was absolutely blown away by how many bloggers I knew (and how many recognized/knew me as well)! I was constantly recognizing bloggers, and some of them knew who I was right away (I am never letting these bangs grow out) and even more recognized me by my Twitter handle or blog name. I really felt like a part of something and it's been one of the most rewarding feelings I've ever had as an adult!
6. Most challenging thing about blogging or reading life this year?
Finding time to do everything! I feel like when one part of my blog did really well, another would "suffer." In 2016, I am really looking forward to trying to balance out all the different aspects of being a book blogger (reading, reviewing, memes, posting, commenting, blog maintenance, etc etc!). I'm planning on creating a time every morning before work to manage all things blog while I wake up and get myself situated. 

7. Most Popular Post This Year on Your Blog (comments or views):
My most viewed post (at an astounding 334 views) is this Book People Talk Movies post about the Joss Whedon microbudget film, In Your Eyes. It's sort of weird that it's not a book related post, because this is a book blog, after all … but somehow I'm actually totally okay with this. I LOVED writing this post, and I LOVED this movie. I want everyone to see it!
8. Post You Wished Got a Little More Love:
This one is going to seem like a bit of a plug, but in my defense it's not just about me! After freaking out flailing over The Great British Bake Off recently, I decided to start a feature called Signature Dish Saturdays, where I'm asking fellow bloggers to share some of their favorite recipes with the rest of us! I would love to see what recipes you've been taught in your families or learned with your friends, and I want to share some of mine with you too! 
Basically I'm just asking for the recipe, how you found out about it, some pictures of it, and maybe some fun GIFs, if you want! I know it's only just started, so there's definitely time for more people to find out about it, but I don't want to have to give up on this feature!

9. Best bookish discovery (book related sites, book stores, etc):
Feedly! This is a very new discovery (like maybe a week?) but so far I love it! I've been looking for something to help me keep track of my favorite blogs, and for whatever reason Bloglovin just never worked for me. I'm really hoping that this app will help me keep up with all of you awesome bloggers, because that's one of my main goals for this year!
10. Did you complete any reading challenges or goals that you had set for yourself this year?
Fairytale Challenge: 6/5
Re-Read Challenge: 6/12
Historical Fiction Challenge: 13/15
Flights of Fantasy Challenge: 21/20
Goodreads Reading Challenge: 54/50
I'm kinda bummed about the historical fiction and re-read challenges – they were totally doable! (ONLY 2 AWAY FOR HIST FIC? REALLY, LINDSEY?) It's actually been fun to keep track of my goals like this though, because now I can look at what's on my TBR next year and re-adjust back to some of my favorites (such as historical fiction!)
1. One book that you didn't get to in 2015 but is your #1 priority in 2016?
Juliet Marillier's Son of the Shadows! Every time I mention still needing to read this book on the blog, all of my blogger friends are scrambling to be the first to tell me that I "MUST READ IT AND NOW" which is honestly the best praise a book could possibly get! I'm really looking forward to it, and I hope it becomes another much loved book to add to my collection, the way that Daughter of the Forest was.
2. Book you are most anticipating for 2016 (non-debut):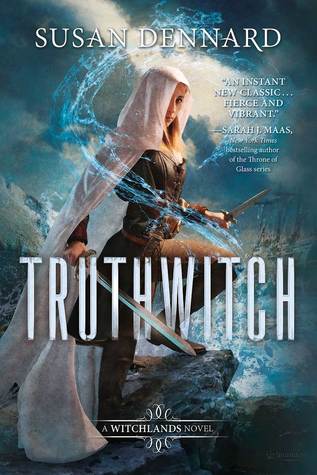 Truthwitch! I am always and forever here for a good fantasy series starter, and I have heard absolutely nothing but the most amazing feedback about this book! I haven't read any of Susan Dennard's other novels, and they're definitely on the list – but y'all, THIS BOOK. 
Continent Ruled By Three Empires.
A Magical Skill Called "Witchery."
Truthwitch. Threadwitch. Windwitch. Bloodwitch.
Imminent war in the Witchlands.
Princes. Mercenaries. Emperors. 
WANT WANT WANT WANT WANT
3. 2016 debut you are most anticipating:
Hopefully this adorably nerdy Dawson GIF will distract you from the fact that I am absolutely terrible at keeping up with debut novels and I don't have an answer for this question! (*hides behind nerdy Dawson*)

4. Series ending/a sequel you are most anticipating in 2016?
I am very very very very much eagerly awaiting two sequels for next year, actually, and I refuse to choose one over the other and this is my blog and you can't make me 😀
5. One thing you hope to accomplish or do in your reading/blogging life in 2016?
COMMENT BACK TO EVERYONE THAT COMMENTS, ideally less than a month later (ily all <3 )

6. A 2016 release you've already read & recommend to everyone:
Actually, the only 2016 release I've already read is When We Collided by Emery Lord – but I do plan on recommending it to everyone that comes into the bookstore looking for a poignant YA contemporary novel!
---
I did it! An entire End of Year Survey done only using James Van Der Beek gifs!