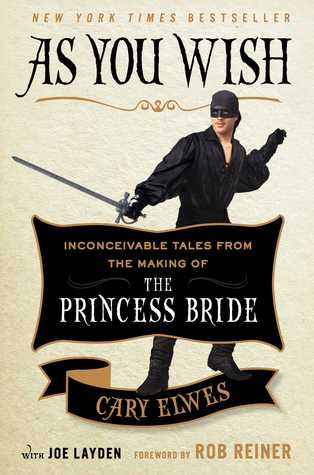 As You Wish by Cary Elwes
Published: Simon & Schuster on October 14, 2014
Narrated by: Cary Elwes, Christopher Guest, Carol Kane, Norman Lear, Rob Reiner, Wallace Shawn, Robin Wright, Billy Crystal
Source: Audiobook, Audible
Date "Read": Jan 29-30, 2016
Length: 7 hours, 1 minute
Genres: Memoir
Rating: ★★★★★
GR Rating: 4.05
What It's About:
The Princess Bride has been a family favorite for close to three decades. Ranked by the American Film Institute as one of the top 100 Greatest Love Stories and by the Writers Guild of America as one of the top 100 screenplays of all time, The Princess Bride will continue to resonate with audiences for years to come.
Cary Elwes was inspired to share his memories and give fans an unprecedented look into the creation of the film while participating in the twenty-fifth anniversary cast reunion. In As You Wish he has created an enchanting experience; in addition to never-before seen photos and interviews with his fellow cast mates, there are plenty of set secrets, backstage stories, and answers to lingering questions about off-screen romances that have plagued fans for years!
With a foreword by Rob Reiner and a limited edition original poster by acclaimed artist Shepard Fairey, As You Wish is a must-have for all fans of this beloved film.
---
I originally read (and reviewed) this book in print short after its release date, in October of 2014. Because this review is part review of the book itself, and some of the audio itself, I'm going to steal some of my original review first for any of you that weren't following me then. (This is partly because I just love the review I wrote for this book!)
Fans of Princess bride should run, not walk, to their local bookstore to pick this amazing book up! It was an absolute gem if you loved the movie as much as I did, and if it has left as indelible a mark on your life as it has mine.
This book is everything a fan could want – inside jokes, heart, history, laughs, love. I was initially concerned going into reading that it might take away some of the magic the movie holds over us as viewers, but was pleasantly surprised that this was not the case. It only enhanced my love and adoration for the film, as opposed to taking away that smoke screen that allows us to believe in the movie magic.
As for the writing, it was perfect. It must be hard as an actor, particularly one whose resume includes being Westley – THE Westley – to remain humble and endearing when writing about a film that has touched the hearts of millions around the world. Cary Elwes does just that, and flawlessly. He seems endearing, humble, fun, mischievous (everything a good Westley should be!).
As if the book couldn't be more appealing, Elwes had reached out to other cast members while writing the book, and their anecdotes are peppered in throughout every chapter. This was a wonderful touch, because it made it so much more about the entire film, and the entire cast – not just Westley. Which, in retrospect, is exactly why The Princess Bride worked. It wasn't about any one character, or any one scene – ask any fan what three parts of the film stand out most and the answers will most likely be all over the map!
---
Now to review the audio portion of the book:
YES. YES. YES. YES. YES. YES. YES. YES. YES.
…Oh, did you want something more substantial than that? Okay, okay – my bad.
It was absolutely everything I could have hoped for, and so much more! I had a bunch of expiring credits on Audible, and really just wanted to find something to ease my way slowly into audiobooks (I've only ever successfully finished one audio prior to this book!). I had a few thoughts going into this: I love the movie, I loved the book in print, and I remember Cary having a lovely voice – so where could I possibly go wrong? (I'm also attempting to reread some books this year, so it fit the bill there too!)
Cary Elwes has an absolutely mesmerizing voice, and listening to him narrate this book was an experience. You can tell he is passionate about this movie, and his role in it – and it's just unbearably endearing. Add to that fact that the other actors have roles in narrating as well, and it was a total treat. I particularly loved Robin Wright's narration, she adds so much inflection and heart to her parts. She even giggles at the end of some of them, which made me love her all the more.
The book is full of behind the scenes information you'll never get from DVD special features (especially considering the movie's … 30th anniversary is next year!). I loved hearing some of the stories that Cary told, both about himself and others involved in the film – and then going back and watching the film to see if I could spot them. Like I said above, it didn't take the magic of the film away at all! If anything, I felt like the entire viewing experience was enhanced by listening to this book.
If you've never seen the movie, here's a fan made trailer
(that is infinitely better than the trailer put out in 1987, believe me.)
---
Have you ever seen this film? Have you read the book it was based on, or read the book As You Wish? (Orrrrr listened to it on audio?) What did you think? Let's talk!